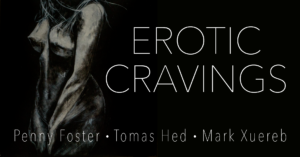 Opening Night: 8 March, 7:30pm;
9 March till 7 April 2019
This is a collective exhibition by three artists, residents in Gozo: Penny Foster, Mark Xuereb and Tomas Hed. Entitled "Erotic Cravings", the show will awaken your most sensual sides; presenting beauty as a craving that even the gods want to posses. Penny Foster will display a group of black and white nude paintings; Tomas Hed will focus on painting the mythological part; and the sculptor Mark Xuereb will put the cherry on the cake with his original and fun approach on the subject.
Venue: Arthall: 8, triq Agius de Soldanis, Victoria, Gozo.
Opening hours:
Monday/Tuesday: closed;
Wednesday/ Thursday/Friday/Saturday: 10-13 and 16-18;
Sunday: 10-12.