1958 Born in Malta. Lives and works in Malta. 2000 Graduated in MA Fine Arts with distinction (Leeds University, UK) and 2009 PhD, University of Preston UK. 2011 to 2019 – Head of Department of Digital Arts, University of Malta. 2015 Associate Professorship, University of Malta.
AWARDS: 2019 'Omaggio all'Arte ed all'Innovazione a Venezia 2019' by The Union of Honorary Consuls of Italy (UCOI) and the National Association of Young Innovators (ANGI) – Venice Biennale, 2019 – Arts Council Malta. Visit: http://www.vincebriffa.com/
In his own words: "My work centres on the co-existence of dualities. It treads blurred borders and investigates uncertain divides between opposing poles. It synthesises extremities, and acts as a seam that binds together disparate realities.
Uncertain of its own actuality, it questions its own being.
I am not a painter or sculptor, I am also not a filmmaker or a writer.
I produce 'work'.
It is my vocabulary. It is the vehicle that best embodies my thoughts and connects all my creative output.."
Arthall is presenting his Between Ash and Dust series, and his newly produced Lichtung series.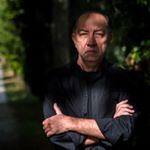 Click here to change this text