– Title of the talk: A Sound Journey
– Speaker: Master Nivek & Sankara
– Date and time: Friday 29 September at 7:30 pm
– Venue: Arthall, 8, triq Agius de Soldanis, Victoria, Gozo
– Description of the Event:
Join us for a captivating and interactive talk that delves into the remarkable potential of sound as a tool for healing, enhancing focus, inducing relaxation, and even transcending into heightened states of awareness.
Facilitated by Nivek and Sankara, this engaging playshop is designed to showcase the profound effects of sound on our well-being. Through a combination of demonstration and participation, we will explore how the subtle nuances of sound can be harnessed for our benefit.
In this unique session, we will guide you through an immersive experience using a variety of instruments, including gongs, flutes, pan drums, shamanic drums, and more. These instruments will serve as conduits for identifying areas of tension within our bodies and facilitating the release of accumulated stress and energy blocks.
Beyond the experiential components, our playshop aims to foster an intriguing and diverse interactive conversation. We invite you to share your thoughts, queries, and insights as we collectively explore the vast landscape of sound's potential. This dialogue promises to be both enlightening and thought-provoking, offering a space for us to delve into the science, history, and mystique surrounding the art of sound healing.
FREE ENTRANCE
– About the Speaker:
Meet Nivek and Sankara, two seasoned souls with a wealth of life experience in the realms of transformation and healing arts. Both have walked the path of personal transformation, emerging as living examples of what they are offering. Their journeys, marked by healing and growth, mirror the principles they share.
Nivek and Sankara's expertise spans the Mind, Body, and Soul connection. With a blend of ancient wisdom and practical techniques, they've empowered countless individuals to unlock their potential and dissolve barriers.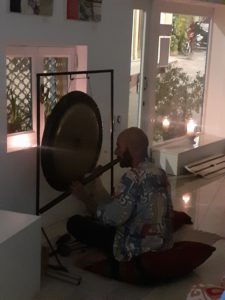 – Contact details Arthall:
Marta Obiols Fornell at arthallgozo@gmail.com or 77051564.
Opening hours: From Wednesday to Saturday from 10 till 13; Sunday from 10 till 12 and afternoons by appointment.
Visit: arthallgozo.com or https://www.facebook.com/ArtHallGozo
Address: 8, triq Agius de Soldanis, Victoria, Gozo. https://goo.gl/maps/UYnexMPz9SRRxD1R9