Meet the Artists: Fox Daniels, SJ Fuerst and Tomas Hed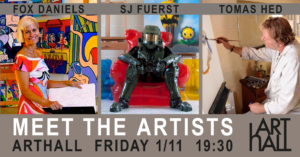 On Friday 1st November at 7:30 pm at Arthall, we will have the opportunity to meet the artists of our ongoing Exhibition "Sophistikós". Fox Daniels, SJ Fuerst and Tomas Hed will explain the pieces they have on display in the gallery, and share with us their points of view and ideas about "what is art?"
THE ARTISTS
Fox Daniels is a half Belgian, half Berber artist, who lives and works in Gozo. She is part of the new generation of the CoBrA Movement and Outsider Artists. Fox works with total freedom without the limitations of the established rules within the Industry of Art and Academies.
Fox Daniels has participated in several group exhibitions and shows around Asia and Europe. In 2012, she had her first solo exhibition in Hong Kong which made quite a stir in the Hong Kong press and throughout China. Fox Daniel's works can be found in corporate boardrooms and private residencies of celebrities and distinguished individuals around the world.
SJ Fuerst, who was born in Connecticut in 1987, lives and works in Gozo. Fuerst was named by British GQ as one of the 10 best artists working today. Fuerst's work is beautiful and funny. Drawing from fashion, Pop art, and contemporary culture, Fuerst creates a surreal world where the animals are inflatable and the women feel so real you expect them to wink at you.
The artist studied painting at the Pratt Institute of Art and Design in New York, at the Florence Academy of Art and the London Atelier of Representational Art, graduating in 2010. Fuerst's can be found in private collections all over the world.
Tomas Hed, originally from Sweden, lives in Gozo, where he lets his imagination and creativity go wild. Here he has found his place to exploit his talents: composing music, writing and, of course, painting. He worked for many years as an Art Director in Stockholm, having his studio in Gamla Stan, the old part of the city. As a seeking youth Tomas developed in an artistic atmosphere, living in a community with other artists.
It's impossible to be indifferent to his creations. The spirit of his art is inspired by an indomitable character, always challenging values, or "bubbles" as he calls them, of our daily life.